I bought this back in March from a guy who makes props as a hobby, he's really good at what he does. I really like it, and since an official replica costs thousands of dollars, this 500 dollars purchase will do just fine for me. When I get my own house (living in an apartment at the moment), this will be the ideal piece of furniture for my collection/hobby/movie room. Pictures: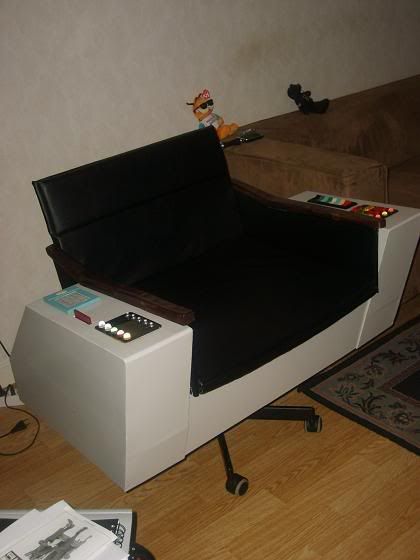 The only things not accurate is the bottom, which makes sense since this baby needs to be able to move. Also, the buttons for the red/yellow alerts and such is not accurate, he could not find the correct buttons for them, I don't remember why. You can plug this in as well. It gives you lights on the left arm of the chair and sound to the right by the click of a button. The red & yellow alerts also shines up if you push those buttons. You can record any sound you'd like through a recorder that is placed underneath the red/yellow alert plate, and then be able to play it, meaning you can change the sounds you currently have when you've grown tired of them.
Here's a video with a little demonstration and a better view of how it works:
Obviously this is one of my favorite pieces in my Star Trek collection. What do you guys think?