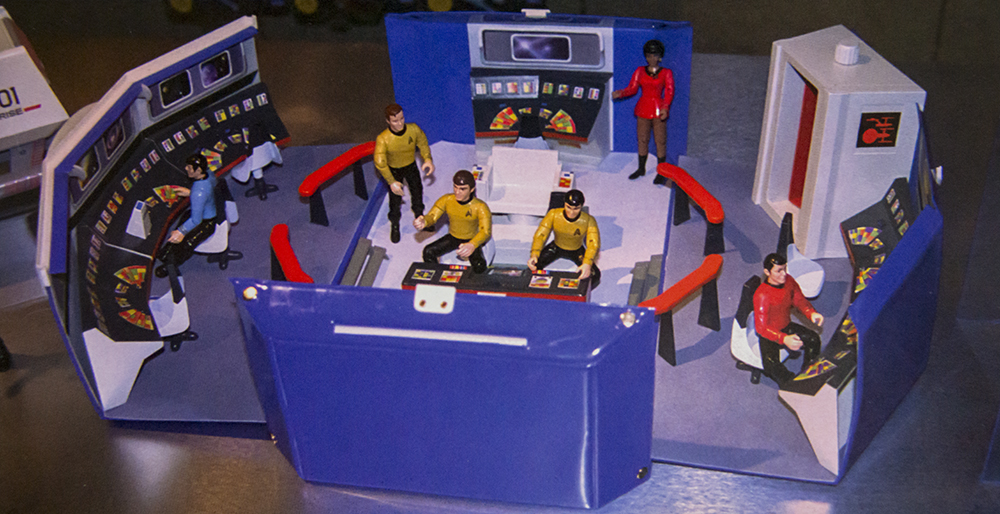 TOS Enterprise Bridge Playset Prototype, 1996
At Toy Fair 1996 Playmates showed this Original Series bridge playset, which did not lead to a production version. The bridge was designed to open like a suitcase, with the two sides pivoting upward and closing at the top, giving it a semi-circular appearance when closed. 
A few things we can note: the bridge is far wider than the TNG bridge playset, and it's relatively faithfully laid out, even if there are some gaps that help playability. More importantly, there are plenty of chairs and railings, and overall the bridge is very spacious compared to the TNG bridge which turned out to be a little too claustrophic, had a bouncy floor, and workstations that snapped off too easily. 
The departures from the screen-seen bridge aren't all that significant: there are some issues one could raise with the stations and some of the spacing, especially front to back, but overall it's pretty well designed. I think this is, retail-wise, as good as it could have been done at the time without costing like a hundred bucks and without being to the exact scale, which could make it the size of a car tire or something. It doesn't feel scaled down, and it's not a deep and narrow well like the TNG bridge -- there is room to stick your hand in from the side and touch the stations and figures from the vantage point of the "camera" without losing too much realism.
Trek line manager Chris Overley indicated on a couple of occasions that it was simply too expensive for the company to do a TOS bridge on a level that they wanted to achieve, and that the concepts they constructed were turning out to be more costly than the TNG bridge. Those are fair statements, and despite the fact that the TNG bridge flew off the shelves (and promptly became $125 in the price guides by like 1994), the retailers could have had some reservations about pricing and size. But, with 80% of the figures going to collectors anyway, as Overley noted, that was kind of moot. As long as it wasn't like $80 at retail (but remember the AT-AT though), and as long as Playmates didn't lose money producing it in a production run that they needed to break even, I think it could have worked out financially. This wasn't a money-no-object playset, and it was made to fold up and stow nicely to hide its size.
Playmates managers Chris Overley and Jim Garber said on a number of occasions that the company had been looking at ways to do the TOS bridge for some time, but to do it in a way that the company wouldn't lose money while being appealing to retailers. But ultimately, we got the cardboard TRU special with the figures, at the very least, for $30. Playmates had hung on to the concept of a TOS bridge playset a little past 1996, but after 1996 the door was really closing on something like this, as the hype had abated. The company was now focused on the First Contact lineup in the autumn of 1996, and a wider run of TOS characters on the 1996 cards, Voyager, and Warp Factor cards. It doesn't appear that retailer demand would have been easy to capture after the publicity highs of 1996 and all the 30th anniversary events, not to mention First Contact in theaters, so if a TOS bridge would have happened it had to happen in 1996 and not at some other point in time.