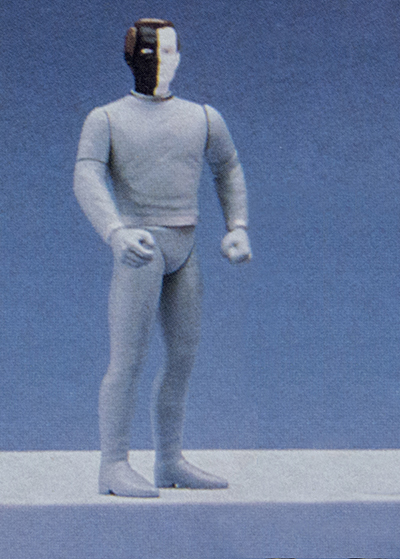 Commissioner Bele, 1998
At Toy Fair 1998 Playmates displayed the Bele figure, which was slated to go into production with the latest TOS Warp Factor assortment later that year. The figure was seen in hand-painted prototype form, and then the company ended up not producing it.
Commissioner Bele was seen in the TOS episode "Let That Be Your Last Battlefield," in which the nearly omnipotent Bele from the planet Cheron pursued a traitor named Lokai, colored in a mirror image of his appearance, for 50,000 years. 
ToyFare interviewed Star Trek product line chief Chris Overley in the fall of 1997 shortly before Bele was shown at Toy Fair 1998, asking his opinions on some fan-requested figures like Shelby, Number One, and others, and Overley said:
"We're going to be making Bele in '98. It's the chemistry set for success: Frank Gorshin as an action figure. What could go wrong?"
Well, something did go wrong as Bele ended up not being produced despite being shown at Toy Fair 1998 in production form and was pretty much ready to go. In the end it could have been an issue like Bele being a discretionary bonus if there was money left in the budget, or perhaps he was cut at the last minute for some other reason. 
The TOS figures that were released in 1996 and later didn't seem to do especially great at retail, if we're being honest here, and while some were bought well, others sat around on shelves for quite some time, so an obscure one-episode character may have been a bit of a gamble for the company by 1998.
At the time of the 1997 ToyFare magazine interview with Overley, he also made some positive but non-committal comments regarding figures like Shelby, Number One from "The Cage," Armus as a resin line figure, while downplaying the chances for some others like Cyrano Jones, Gary Mitchell, Amanda, and Apollo from "Who Mourns for Adonis."
I think in the context other figures we could have gotten, like Shelby for instance, or Number One, Bele comes off looking like a quite meh choice. I mean, sweet Jebus, we could have had Shelby!
"We could really use any body... with a retooled head," Overley said in the same interview. "But we're trying to get away from that. We think she's popular enough, we just want to make sure we're changing the figure enough."
So there you have it -- neither Bele nor Shelby ended up being made. Not sure what the lesson here is, but in the spring of 1998 Chris Overley left the company, and the figure line basically ran on some fumes for a short while longer.