Galoob Trek toys...
I first saw one at a Trek convention in 1995. They were Tasha & Geordi.
I did not have enough money to buy them & the Bidge Playset which was $135....so I went with the Bridge.
Plus I thought they were kinda ugly.
Many years later I found a new appreciation for them...same as many Playmates lines like 9" & Innerspace. I get very nostalgic when there is no Trek on the market
I really do like the Galoob line now. They were great figures for the time.
On the old forum someone was showing us a pic of the Bridge Playset never released for the Galoob line....*sigh* Anyone got that pic still?
Just one more series plus that playset would have made the Galoob line something amazing.
Below shows my Galoob figures with the custom Crusher. I will try & hunt down a Wesley one day seeing as how it was his only figure ever in that outfit. Series 2 would have seen the only official season 1 versions of Deanna & Beverly as well.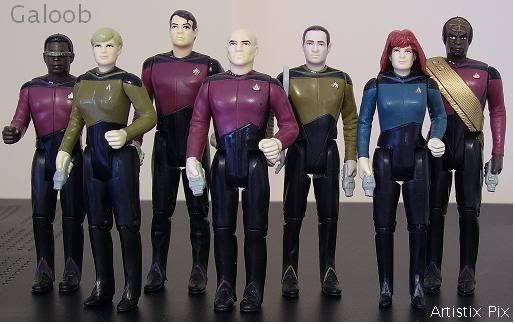 Anyway...those who were actually Trekkers during Galoob's run...what were your thoughts on the line? & what were your thoughts about the series ending with it's first set?