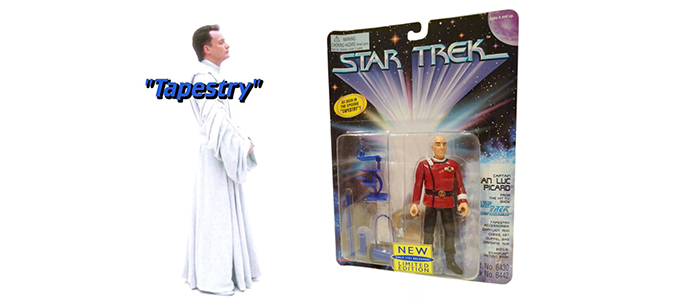 Time heals some wounds, but time also offers a bit of perspective. Do the 1701 figures still seem like a controversial move today, was the controversy overblown, or were they a misstep that contributed to the demise of the Star Trek figure line?
Even with the mere announcement of the two 1701 limited figures there was an immediate backlash that Playmates was a little taken aback by, with collectors and even toy magazine editors blowing a gasket and making a big show about stopping collecting, berating the manufacturer, all while ignoring the fact that two years prior Playmates offered a mail-away Sisko figure that nobody bothered to get. Even Red Data and Thomas Riker didn't get this kind of a reaction. It's worth recalling that the Sisko figure had somehow evaded the wrath of everyone who had a horse in the race and those who did not.
In retrospect a lot of this sentiment aimed at the 1701 figures appears to have been stoked by Trek fan clubs, and those who occasionally bought trek figures but turned into strict completists with the flick of a switch and suddenly wanted to "speak to the manager."
Part of this was the scalping and general toy climate at the time, especially in 1996 when sci-fi was all there seemingly was, and the feeling that the action figure bubble would last forever. The absence of eBay in 1996 also made the market itself reliant upon these big collectible shops that advertised in Toy Fare, Lee's and Tomart's.
As such, it appears that at the time the demand could not really dictate the price and you yourself could not buy and sell stuff before a global audience. So a lot of things, like various foreign figures, almost did not exist for all intents and purposes, and it was frequently a situation of paying a "ransom" to one of these stores that advertised in a magazine or simply not obtaining what you wanted.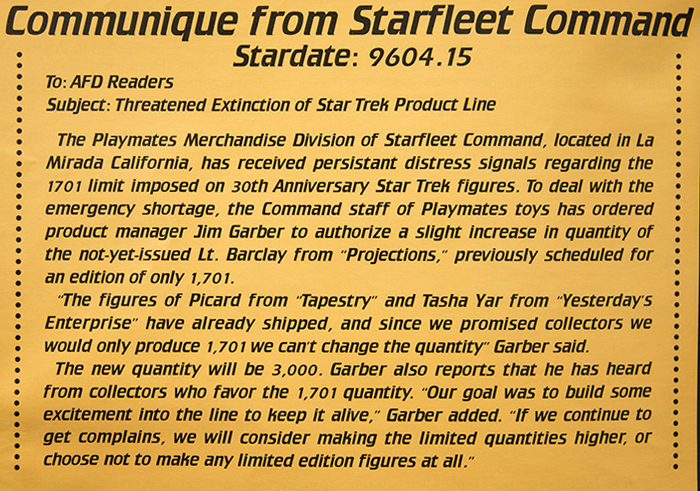 Playmates got all the bad press for the Picard/Tasha/Barclay trio (and later released the 3-pack to atone for it), but other toymakers also churned out fairly limited stuff -- perhaps to a smaller audience -- and somehow avoided the bad press. The 1701 figures were also, perhaps shortsightedly, blamed for the deterioration of the popularity of the line, but I suspect that at most it was one of like 10 factors that contributed to the decline in the line's popularity. On that point, I suspect that the switch to generic backer cards for multiple lines, the switch to a larger format for First Contact figures dealt just as much damage, along with some other blunders.
Twenty years later, after the bottom had fallen out of most of the line, everyone who really wanted a Tapestry Picard can get one, sometimes for as low as $200.
How could Playmates have approached this differently? Here are some options to consider:
1. The 1701 thing was okay as it was
2. Release Tapestry Picard in normal quantity, but then do 1,701 units in a unique package, Theater Luke-style.
3. Produce a 10,000 unit run of Tapestry Picard, as with the Huntsville figures
4. Produce 17,001 Tapestry Picards
5. A limited run of 5,000 units through The Communicator magazine but not in stores
6. Produce Tapestry Picard & Tasha separately in regular quantity, but then release a two-pack with both at 1,701 units.
7. The 1701 figures should not have been made in a limited manner of any sort
8. This ruined collecting for a lot of people

What do you think about the 1701 figures?