I've been trying to find an affordable Master Replicas First Contact phaser for a while now but haven't had any luck. I keep getting sniped right at the end on eBay. I've had this Playmates phaser hanging around for a while and thought I'd try a repaint. I wish I was in on the board room meeting when Playmates made this phaser ...
"Hey Bob, I know the phaser is dark gray and has a red trigger button in the movie but I'm in a powder blue and silver mood today ..."
"That sounds perfect, Bill!"
(all pics but final ones are from my iPhone ... sorry!)
I decided to tear into it to see what I was working with. I figured the more pieces I could get the easier it would be. I unscrewed the bottom shell to reveal the electronics. I also removed the small piece on the underside of the emitter to reveal the light bulb.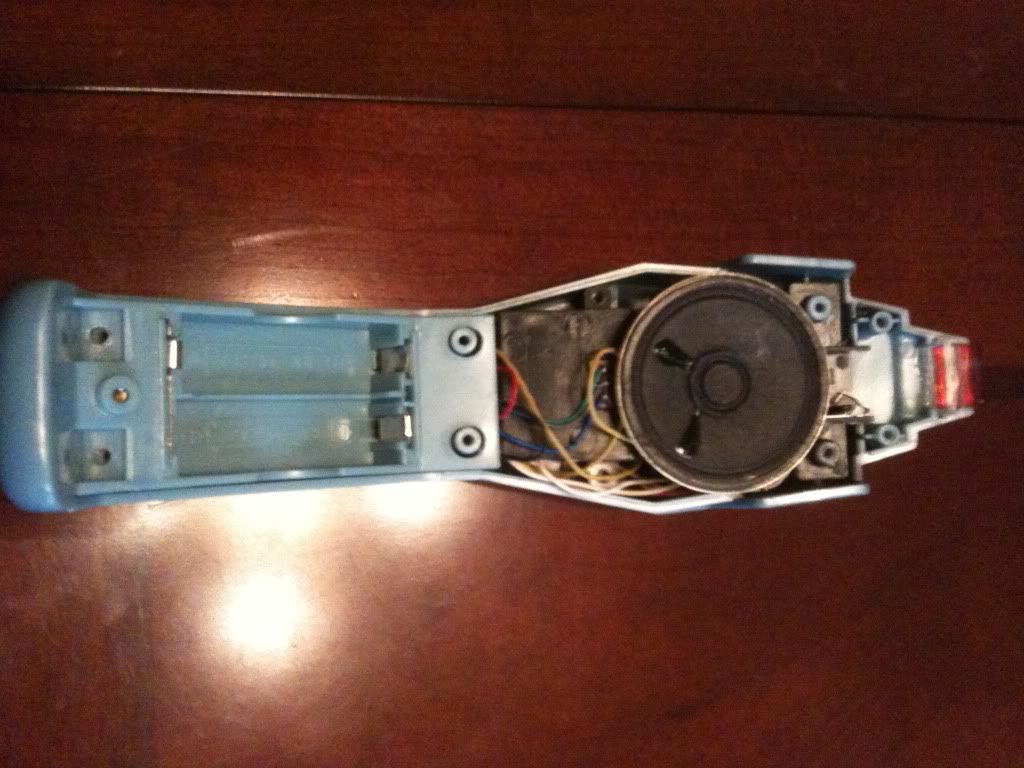 The first thing I see is the speaker. Nothing was holding it in and I was able to remove it easily. I later discovered that is supposed to be attached to the lower shell be a few screws. It must've come loose over the years. I also popped out the light bulb very easily.
http://i649.photobuc...u216/erikduncan
/Playmates%20First%20Contact%20Phaser/IMG_0505.jpg
Next I popped out the light bulb electronics. They were attached to those two round pegs near the emitter. It just slid off the pegs easy peezy. I also removed the button electronics. The little box was attached with two screws. When it popped out it revealed all buttons that just come out, too.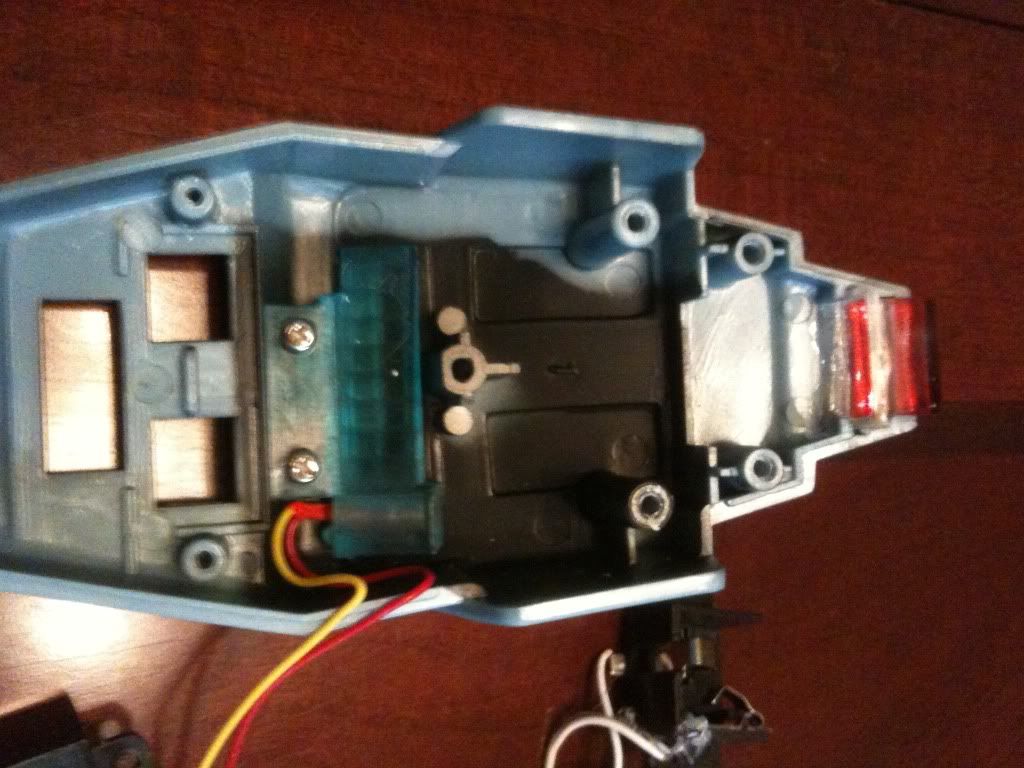 Next I unscrewed the battery pack and it just slid right out. The last thing that was physically attached to the phaser body was the power bar electronics. It had two screws and I was able to pop it out without a problem.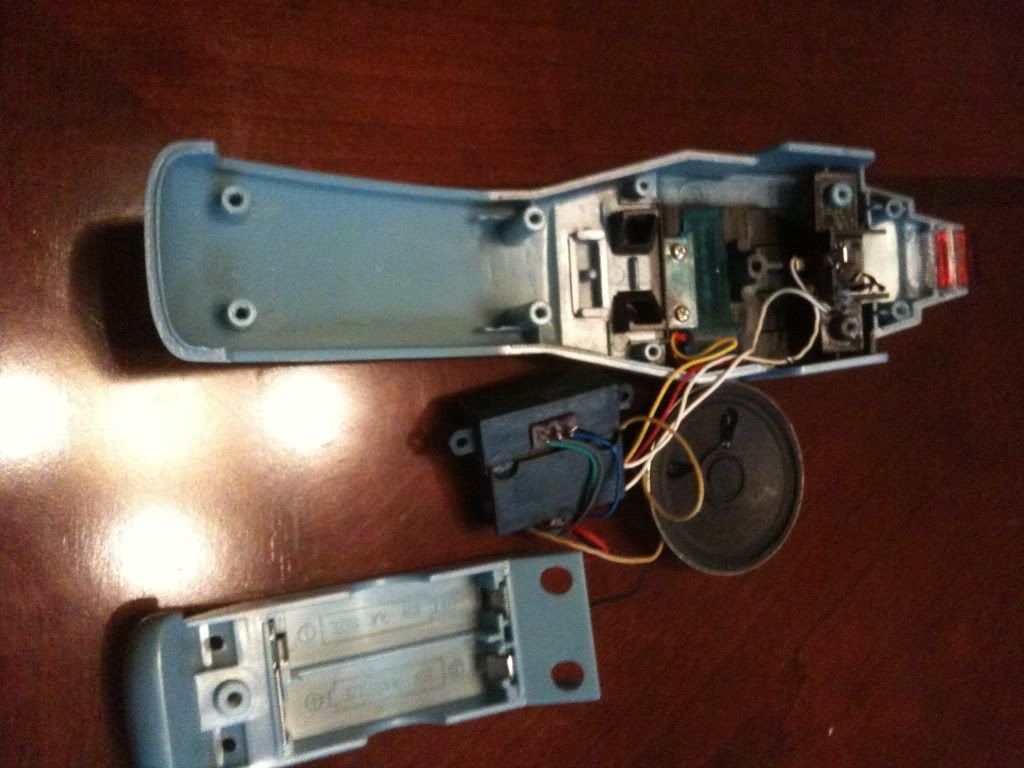 Here's all the electronics removed. They are all attached and one big piece. I handled with care since I have no idea how to solder thing back together again
Here's the pieces that are left over that can be painted. I decided to only paint the phaser body and the smaller shell. The other pieces were already black and looked ok. I figured if in ain't broke don't fix it.
I also left the white buttons alone.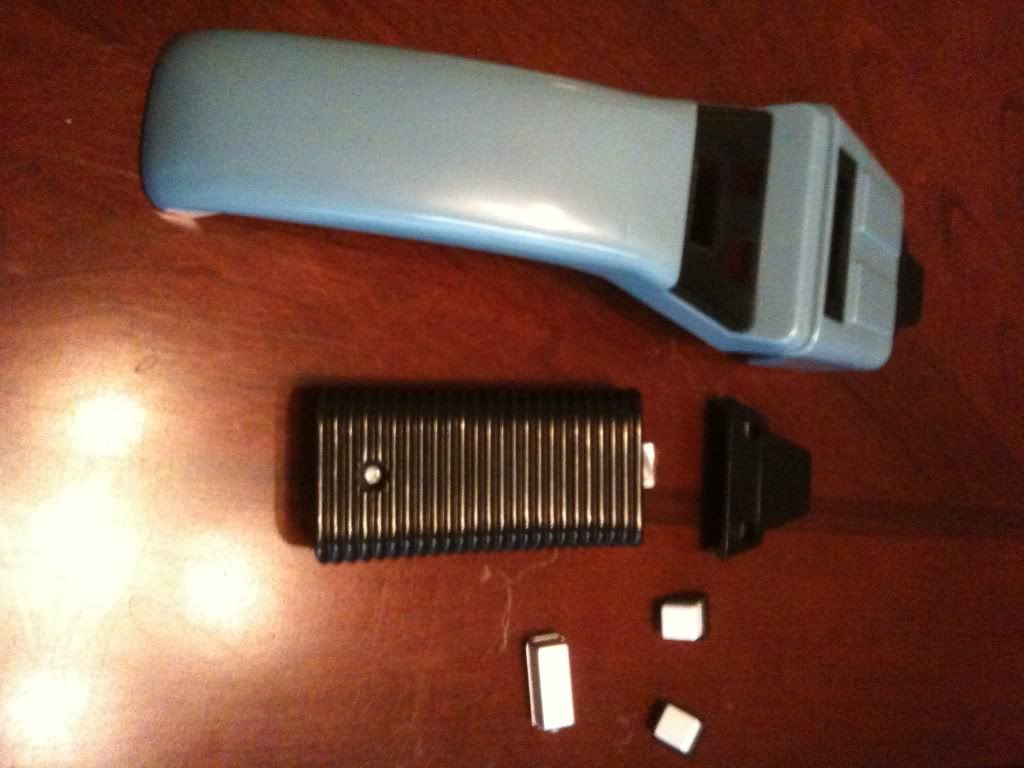 Next I primed the shells and trigger button. I used Duplicolor primer. When dry and painted the trigger button red with Testors red enamel paint (a few coats). Then I painted the shells with Plasticote medium charcoal gray (code 1004) and wet sanded between coats. Not sure if it's the exact color used, but it looks pretty good to me. All painted pieces where then set aside for the majority of the day to dry nicely.